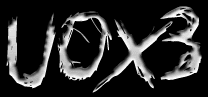 -= UOX3 News =-
Tuesday, September 11, 2018
UOX3 on GitHub
UOX3 has been dragged kicking and screaming into the 21st Century! The source code for UOX3 and various tools have been migrated to GitHub, with the commit history of both the old SF repositories (UOX3 and OpenUO) merged into one, brand new shiny looking git repository.
UOX3 on Discord
In a similar vein, a presence has been established for UOX3 on Discord! Join #uox3 on Discord today and idle afk forever for a good time!
Sunday, November 4, 2012
UOX3 v0.99.2b Released!
Two releases in two days! Let's pretend the reason for this is NOT that the previous version had a critical bug that would wipe out all character skills on server restarts....
As always, the Downloads-page contains the good stuff.
The complete changelog is available here, while a shorter summary will follow below.
Summary of improvements in UOX3 v0.99.2b:
Fxd issue intrdcd in prev ver where any char-spcfic tags strtng with the lttr 'B' would not be loaded crrctly frm the wrldfiles.
Point your mouse over this link and left-click to be rewarded with the downloads-page for UOX3 0.99.2b!
Saturday, November 3, 2012
UOX3 0.99.2 Released!
Time for another version! This one, just like the previous one, is available from the Downloads-page. As with the previous version, UOX3 v0.99.2 is a relatively small release, though it contains some nice fixes related to item-weight, LoS and - for linux - server crashes, so upgrading is highly recommended.
The complete changelog is available here, while a shorter summary will follow below.
Summary of improvements in UOX3 0.99.2:
An issue with locked-down items in houses going missing has been fixed
Fixed an issue with the weight of containers, which could get corrupted. Containers (and other items) now store their base weight in a new item property (accessible through JS Item Object property .baseWeight) upon creation. A command to iterate through old containers to fix them is also available: 'FIXCONTWEIGHT
A segmentation fault in Linux related to JS method GetTag has been fixed.
Some issues with LineOfSight-checks have been resolved
An issue where NPCs would never stop trying to pathfind to players on a different floor of a building has been resolved
Picking up items now performs a LoS-check (to stop exploits with players picking up items through walls)
Some issues with players becoming criminals from fighting their own pets, or having their own pets fighting one another have been fixed
New Gump-related JS Methods added: AddGumpColor, AddPictureColor, AddToolTip, AddTextEntryLimited, AddButonTileArt and AddXMFHTMLTok
OnCollide JS event can now be triggered through character scripts (previously only through item-scripts)
Maximum amount of regions supported in regions.dfn has been increased from 255 to 65535
Added support for optional amount-values (specific amount, or random between min and max) behind LOOT and PACKITEM DFN-tags
Added support for randomization (between min & max values) in the AMOUNT DFN-tag for items
The 'INFO command will now display detailed flag-data for targeted items (dynamic or static)
Various small fixes to misc JS and DFN files
Wednesday, March 21, 2012
UOX3 v0.99.1 Released!
This smaller release includes fixes for a couple of issues that were overlooked in the release on monday, plus a few other bits and bobs. You can download UOX3 v0.99.1 from the Downloads-page.
Changelog for UOX3 v0.99.1:
Fixed weight showing up incorrectly in item-tooltips for stacks of items
Fixed a weight-related issue by clearing the CSocket variable pSpot (pickupspot) after dropping items
Fixed a weight-related issue by clearing the CSocket variable pSpot (pickupspot) after bouncing back items on non-valid item-pickup attempts
Added new function void PickupBounce() in cPlayerAction.cpp to avoid having to repeat some shared code all over CPIGetItem::Handle()
Added CSocket::SetCursorItem() and CSocket:GetCursorItem() to be used for storing temporary pointers to items held by players on the mouse-cursor
Fixed an issue where items picked up off the ground and held on the mouse-cursor while disconnecting/being disconnected would make said items vanish permanently
Fixed MaxWeight-value in status-gump for clients v5+ - will now reflect the actual MaxWeight calculated based on UOX.INI setting WEIGHTPERSTR
Fixed issue where UOX3 would always try to read from mapfiles as if they were v7.0.24+ UOP-wrapped mapfiles, even in earlier clients with non-UOP-wrapped mapfiles
Futureproofed map-loading/reading code to support both UOP-wrapped and regular maps on a map-per-map basis. May not never need to, but still.
Added new DFN-tag for creatures - "HUMAN". This now replaces the hard-coded list of "human" body IDs that is checked when playing animations, sounds, etc.
Added "HUMAN" DFN-tag to DFNDATA/CREATURES/creatures.dfn for all male/female player bodies, the GM body and all Savage human bodies
Added NEWBIE-tag to items in DFNDATA/ITEMS/GMMENU/gm_skins.dfn (dragon slayer)
Added MOUNTID=0x3EC6 to CREATURE 0x2cb (Boura) in DFNDATA/CREATURES/creatures.dfn (dragon slayer)
Added an equippable boura mount-item (for NPCs) to DFNDATA/ITEMS/MISC/equippable-mounts.dfn
Added some more missing regions to DFNDATA/REGIONS/regions.dfn (dragon slayer)
Added support for specifying the amount of items to add (only works for stackable items) to a container using the PACKITEM tag. Syntax: PACKITEM=itemid,amount
Added new item to DFNDATA/ITEMS/MAGIC/reagents.dfn: bagofreagents - a bag containing 30 of each basic reagent.
Added bagofreagents-item to Magic->Reagents portion of Add-menu in DFNDATA/ITEMS/ItemMenu.bulk.dfn
Replaced PACKITEM-lines specifically for reagents for magery in newbie.dfn with PACKITEM=bagofreagents
Updated JS/ITEM/axe.js to use CreateDFNItem instead of CreateBlankItem to create new logs
Submitted some updates to some DFN/JS-files that had somehow not been committed to the CVS properly
Grab it from the Downloads-page!
Monday, March 19, 2012
UOX3 0.99 Released!
The year 2012 - say hello to UOX3 0.99! Fresh off the compiler, UOX3 0.99 is now available from a Downloads-page near you.
Now, how does one go about writing release notes for a new version of a program that has not had a proper version released in over three years? The CVS has received some updates, and we did put up some "experimental builds", but the version on the Downloads-page has been stuck on the same version for over three years. This is not ideal.
However, this does mean we've got a changelog chuck full of good stuff for this version! The full changelog of changes done since the last proper release amounts to ~320 lines of text, a little less than half of which were done in 2012. This list includes both changes that have already been available through CVS and experimental builds, as well as a whole bunch of never before seen changes, fixes and additions that will hopefully be of some interest to people.
The entire changelog is available here, however a summary of the most important changes will follow.
Summary of improvements in UOX3 0.99:
Added support for Stygian Abyss clients (classic version) from 6.0.14.2 to 7.0.8.2
Added support for High Seas clients (classic version) from 7.0.9.0 to 7.0.24.3
Better support for all clients from 4.0.x to 7.0.24.x - numerous packets added/updated
Server-support for extended tiledata/multi.mul files and items with IDs up to 0xFFFF
Server-support for reading map#LegacyMUL.uop files in clients 7.0.24.x
Improvements to World-loading and saving. About 35-40% and 30-35% faster respectively
Improvements to Z-calculations for player-movement - all known player-movement-related bugs squashed
Improvements to (Advanced) NPC pathfinding code - no more pathfinding NPCs locking up the server
Improvements to LineOfSight-code - no more NPCs aggroing through walls, no more checking against fixed (and outdated) list of itemIDs
Improvements to collision-checking for boat-placement and movement
Revamped spell-damage and magic-resist systems - base spelldamage now customizable
Added basic support for creation of Gargoyle player-characters (no flying, though)
Added basic and highly experimental support for UO Enhanced clients (no custom gumps, though)
Added more JS events and object properties: onDropItemOnItem, onVirtueGumpPress, onBuy, onSell, onBuyFromVendor, onBoughtFromVendor, onSellToVendor, onSoldToVendor
Added support for learning skills from NPCs through "train " in addition to the old method (" train")
Added support for customizing the ammo-id/color-requirements for ranged weapons, as well as specifying the effects for the missiles
Updated region and teleport-scripts to cover maps 2 through 4
Fixed issues with skill-gump not displaying skill-lock controls properly and/or crashing the client
Fixed various issues where NPCs would spawn in invalid locations
Fixed various issues with item-decay in houses
Fixed issue with JS File I/O that would prevent opening files for appending or writing, only reading
Fixed broken Bulletin Boards - which also fixes NPC escort quests
Fixed some compilation issues in VS2008+
Fixed some compilation issues in Linux
Numerous generic DFN fixes and additions
Numerous generic JS fixes and additions
Several server and client crashes fixed
Updated various UOX3 documentation (installation, configuration, server-settings, JavaScript docs)
Why are you still reading this? Go grab UOX3 0.99 already!
Friday, March 3, 2012
New UOX3 release coming soon - supports SA and HS clients
A new version of UOX3 will be released in the not distant future, which will drag UOX3 kicking and screaming into the 211th decade by including support (login, character-creation, tiledata, multis, items and maps) for UO clients all the way up to 7.0.23.0, by breaking through various packet and data-related barriers in versions 6.0.14.2, 7.0.9.0, 7.0.13.0 and 7.0.16.0 - while keeping backwards compability with older clients back to the 4.0.x versions.
That's not everything, though; below follows a short overview of the major improvements in this version. For more details on each point listed, check the linked forum thread at the bottom of the list.
Short overview of improvements:
Better UO Client support
Server-support for extended tiledata/multi.mul files
Improved player-movement code
Improved (Advanced) NPC Pathfinding
Improved Line of Sight checking
Revamped spell-damage and magic-resist systems
Improved collision-checking for boats
Basic support for Gargoyles
A whole bunch of regular old fixes and smaller additions
We've also added a very important new section to the forums dedicated as a place where anyone and everyone can post fixes, additions and improvements they would like to see included in UOX3 - the Submissions - Fixes & Improvements-forum! JS, DFNs, Code, Documentation-updates - anything posted in this forum will be considered (though not everything will be approved) for inclusion in the default UOX3 package.
Sunday, December 25, 2011
Merry Christmas! Forum update plus note on Experimental Builds
As explained in a recent post on the forums, we're in the process of upgrading our forums from phpBB2 to phpBB3, and as such the front-page link will be changing from the old forum to the new in one of the coming days, once some kinks have been ironed out and we're certain the new forum is behaving as it should.
This means that the two forums will co-exist for a short period of time, which also means that posts on the old made after December 24th, 05:30am (GMT) will not automatically be brought over to the new forum. Feel free to start using the new forum right now, though!
Note on Experimental Builds
It has been a while since the latest proper UOX3 release - 0.98-4.0, but there have still been various updates done since then. The source-code for these updates is of course available on the CVS, which is hosted on the OpenUO SourceForge-page. From time to time we also post Experimental Builds in the forums, which are compiled based on the CVS source-code.
Some highlights from updates that have been made since the last official release, which are available in the form of these Experimental Builds right now:
Fixes for various server and client-related crashes
Fixes for issues where NPCs would spawn under the ground or in invalid locations
Fixes for issues where locked down items (and doors!) in houses could still end up decaying
More options to define how item decay is handled added to INI file
New JS Events (onDropItemOnItem, onVirtueGumpPress, onBuy, onSell, onBuyFromVendor, onSellFromVendor, onBoughtFromVendor, onSoldFromVendor) and JS object properties added:
Travelling between worlds by magical means will now make you appear in the correct world
A Client/Server synch issue with boats has been fixed
Various general updates, fixes and additions to the DFN files
Containers can now be spawned with items already inside, through LOOT and PACKITEM tags
Shopkeepers will no longer become overloaded if they buy lots of items from players
New NPCWANDER mode (5) for NPCs that should never, ever move.
New DFN tags for ranged weapons, to define (on a per ranged-weapon-basis) ammotype, color, effect, effect-color and effect-mode: AMMO=id (color), AMMOFX=id (color rendermode)
New DFN tag to define maximum weight-capacity for individual containers: WEIGHTMAX
Various updates to item-tooltips related to weight, container capacity and item locked-down status
Fixes for Item Identification skill and wands
Fixed issues with JS Method "Open" for File objects
Improved default handling of light-sources (turning on/off)
Improvements for weapon-related sound-effects in combat
Revamped spell-damage and magic-resist systems. Base damage for spells can now be set in DFN
... (more)
You can grab the latest Experimental Build from this forum thread. Alternatively, grab the source-code from the CVS and compile it yourself!
Saturday, January 17, 2009
UOX3 0.98-4.0
Though it is now 2 1/2 years since the last version of UOX3 was "officially released" (which must be a new record of some sort!), there have been updates made to the CVS every now and then throughout this period, and experimental versions of these changes have been released on the forums to users who've wanted them.
Now the time has finally come to do a new full release of UOX3, however, and as a result, UOX3 0.98-4.0 is now available from the Downloads-page (or alternatively, from the OpenUO SourceForge-page).
Read below for a summary of this version's updates, or check out the detailed changelog.
Support for most recent UO client versions
A* Pathfinding routine now available through INI setting
NPC movement speeds (walking, running, fleeing) can now be defined either on a global basis, or on a per-NPC-basis
NPCs without any stamina will move slower, and attacks on fleeing NPCs will be faster to make it easier to hit them
Tamed NPCs will now run to keep up with their owners
Advanced item tooltips can be enabled/disabled in the INI
Support for party-system implemented, and also exposed to the JS Engine
Spawns through spawn.dfn can now be set to only spawn outside of buildings in a specified region
Players should no longer log in to a black screen if they're in a different world than world 0
Support for customization of which client features to support, through INI file
Statlocks should now be working properly
Issue fixed which could cause JS gumps to interfere with eachother
Optional system for loading/saving accounts using a SQL database (needs to be enabled on code-level), also exposed to JS Engine
Limit on items in create.dfn bumped from 999 to 4,999
Several additions, updates and fixes to JS Engine
Numerous fixes and updates to included Javascripts
Numerous fixes and updates to included DFN files
Several compiling-issues fixed, for MingW32, Visual Studio 2008 as well as compiling under *nix
2 Client crashes fixed
7 UOX3 crashes fixed
... (more)
Get it from the Downloads-page now!
Sunday, July 20, 2008
Xuri's WorldBuilder 0.23
The first official version of Xuri's WorldBuilder in over six and a half years has now been released. Rumors has it that this version includes basic support for Vista as well as a brand spanking new installer, which drags the tool kicking and screaming into the 21st century.
For those of you who have no idea what WorldBuilder is, it's a combined ingame worldbuilding utility (constructing houses, decorating your world, etc) and GM Tool (similar to CGMT/ShardAce of old, easy access to most commands and many features of UOX3). Download it and give it a try!
Tuesday, April 1, 2008
(April Fools) UOX4 Released, now supported by EA
The release-version of UOX3 v1.0, known as UOX4, is now available from the downloads page. UOX4 includes full support for the most recent UO clients, both the standard 2D client and the UOKR client, and all features currently implemented on the official UO servers are supported, either fully or partially.
UOX4 is now officially supported by EA, after we've struck a deal with them that makes the continued development and optimization of UOX4 easier than ever. No longer will sudden changes to the UO client cause incompability or a breakdown of features - we'll be informed of any changes to client <-> server protocols beforehand so we can easily keep UOX4 compatible with new client releases.
Summary of UOX4 features:
Name changed to UOX4, version number updated to 1.0
Support for most recent client versions, both 2D and UOKR
All official UO features implemented to some degree
Full support for the custom UO client, Iris
A number of server stability-issues have been fixed
JavaScript-engine has been optimized, should now be 30-40% faster
Network-code has been optimized, should now be possible to host upwards of 1000 players on a 1MB ADSL connection, or 200+ on ISDN
Choose between ASCII, Binary and SQL worldsave-formats, and change from one to the other without restarting the server
Support for server-clusters added: Run AI on one server, database on another, chat on a third, etc.
Early support for a number of other MMORPG clients added, making customization of UOX4 to run private servers of games like WoW, Eve and AoC (when released) possible
For a full list of changes, check the ChangeLog
Get it from the Downloads-page now, or discuss the release of UOX4 with other users!
Tuesday, July 17, 2007
About UO Client v6.0.1.7
As of version 6.0.1.7 of the UO client, problems have started occuring when connected to emulated UO servers such as UOX3. Client lockups and freezes are very frequent, and some reports indicate a change in the packet system that could have other gameplay-affecting consequences as well.
For now, we advice you to hold those client updates for the time being, until more information/a fix to UOX3 is available.
Sunday, February 25, 2007
UOX3 INI Editor
The resident coding wizard - giwo - has conjured up a much needed and long awaited utility with which shard admins easily can modify the general UOX3 settings stored in the UOX.INI file without having to trudge through the file manually in a text-editor. Instead, you can now navigate through a tabbed GUI (img) with all the options laid out in an orderly fashion.
You can download and/or stay up to date on the latest versions of the UOX3 Ini Editor by browsing to this thread in the forums.
WorldForge - grimson Edition
Another version of WorldForge has been added to the Downloads-page; a modified version (by grimson) of the one already there, it includes support for maps sized 7168x4096 as well as some smaller fixes to the overview map.
Tuesday, January 2, 2007
(Happy Newyear!) New UOX3.org Webserver
UOX3.org has been unavailable during the last few days due to a change of webserver host. The changeover is now more or less complete and the page should be showing normally, though some details yet remain to get up and running (such as the forum).
If you encounter any new errors on the page, don't hesitate to let us know so we can fix it.
Sunday, December 24, 2006
Merry Christmas
It has been pretty quiet around here for a while now, but we're still around, and we hope you'll all have a very Merry Christmas, whether you celebrate the day(s) or not.
Forum registration de-activated
It must also be mentioned that for the time being any and all new forum accounts must be activated by an administrator before they can be used. Manual activation has been disabled due to the huge amount of spambots that keep registering.
Until a solution can be found (either through upgrades to the forum software or by add-ons), it might take a day or two for new forum accounts to be activated.
Sorry about that.
Tuesday, August 8, 2006
Forum Registration Fixed... Again
Just received an e-mail mentioning that authorization e-mails for newly registered users on the forums weren't being sent - the problem has now been fixed, and new users since 25th of July have all been manually activated.
Thursday, July 20, 2006
UOX3 Newsfeeds and Opera Widgets
RSS newsfeeds for UOX3 have been added for both the UOX3.org news-page

(in the front-page menu) and the forums

(in the forum header), along with Opera Widget-versions of said newsfeeds (screenshot).
Note that version 9.0 or newer of the Internet Browser Opera is required to use the Widgets.
Saturday, July 8, 2006
UOX3 0.98-3.7
Three months have passed since the previous UOX3 version was released (though any changes and updates are always available directly from the CVS at any time after they've actually been made), but now we're back on the release track with UOX3 0.98-3.7, which is available from the Downloads-page.
Read below for a summary of this version's updates, or check out the detailed changelog.
Support for all ML weapons added to source
Duping error involving stacks larger than 32,767 has been fixed
Issue causing timers not to be properly reset by the JS engine fixed
Price and description information added to item tooltips on player vendors
"view", "status" and "dismiss" commands added for player vendors
Various other player vendor related bugs fixed
House placement in valid locations fixed
Boats will now also work at water levels other than Z -5
Characters can now fight their own pets/summons without turning criminal
Damage output by summoned creatures fixed
The effects of magic fields fixed
New MOUNTID tag added to creatures DFN to allow making creatures mountable
NPCs can now walk through player ghosts
Player ghosts only visible in combat mode, will enter combat mode when speaking
JS method TextMessage has two new optional parameters; allHear and txtHue.
NPCs can no longer cast Blade Spirit/Energy Vortex, due to flagging issues
The ever-swinging training dummies have been fixed (new ones only!)
Bugs with the following spells were fixed: clumsy, heal, feeblemind and magic arrow
Two new JS scripts added to UOX3: oilcloth.js and cow_tipping.js
Functional keyrings (and scripted version of keys) added
GOOD tags added to buyable items to make it easier to use the advanced trade system
Several guardzones fixed
It's now possible to fish up assorted items aside from fish
(more)
Get it from the Downloads-page now!