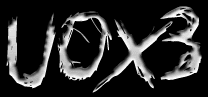 -= UOX3 Documentation =-
Installing and Configuring UOX3
UOX3 Administration
The complete list of UOX3 commands, including syntax and description for each command.
The documentation for UOX3's JavaScripting Engine, which can be a powerful shard-customization tool, and allows the shard admins to create new functionality without having to know C++.
List of all DFN tags in UOX3 for characters, items, regions, weather-regions, create-scripts, creatures and houses. Comes in the form of a spreadsheet, saved in four formats: ods, xls, html and xml.
Xuri's UOX3 Guide offers step-by-step guidance to setting up, running and administering an UOX3 shard. It contains a myriad of tips, tricks and advice for shard admins and GMs, as well as lists of various data such as IDs, light-settings, etc. Recommended read for both novices and veterans.
Feature Specific Documentation
UOX3's advanced trading system explained by it's creator, Magiu§. Deals with stuff like varying resource prices depending on demand/availability.
NPCWander through DFN-settings
Detailed description of how the wander-system for NPCs works through the DFNs, by Crwth.
Legacy xGM protocol specifications
(Note: THIS IS OUTDATED! Only listed for historical reasons.)
Proposed specifications/layout for UOX3's "xGM"-protocols; UOX3-specific protocols designed to support GM-Tool -> UOX3 communication without going via the UO Client.
Additional JavaScript Resources