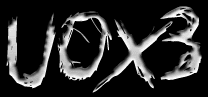 -= IRC Chat =-
The developers and users of UOX3 keep a live presence on IRC to help people, get input from eachother or just to talk about stuff in general.
Download an IRC client like mIRC (Windows) or X-Chat (Windows/Linux) and join us in #UOX3 on irc.freenode.org! Whether you join for support, to help others, to hang out, or just to idle while you log every word being said for future reference doesn't matter - as long as you DO join. :)
Another option is to use our Java-based IRC client:
Java-Based IRC Client
To start using the Java-based IRC client on this page, enter your nickname below and press the "Log In"-button. When a dialogue box pops up asking you to trust the signed applet, accept it, and you'll be taken to the chat window.
Note that to use this chat-client you need to have Java installed. You can download it from Sun Java's homepages if you haven't got it already.